Pedalanças
Bike riding to the Andanças Festival 2022

(more info about Pedalanças 2023

here

)
For the fourth year, Cicloficina is joining Andanças Festival by going on a bicycle trip to the Festival. Our three-day trip of 160 km in August is divided into three comfortable stages that allow participants to enjoy the trip and the landscapes we will be crossing without any rush or major effort.
The journey is environmentally sustainable and as close to nature as possible.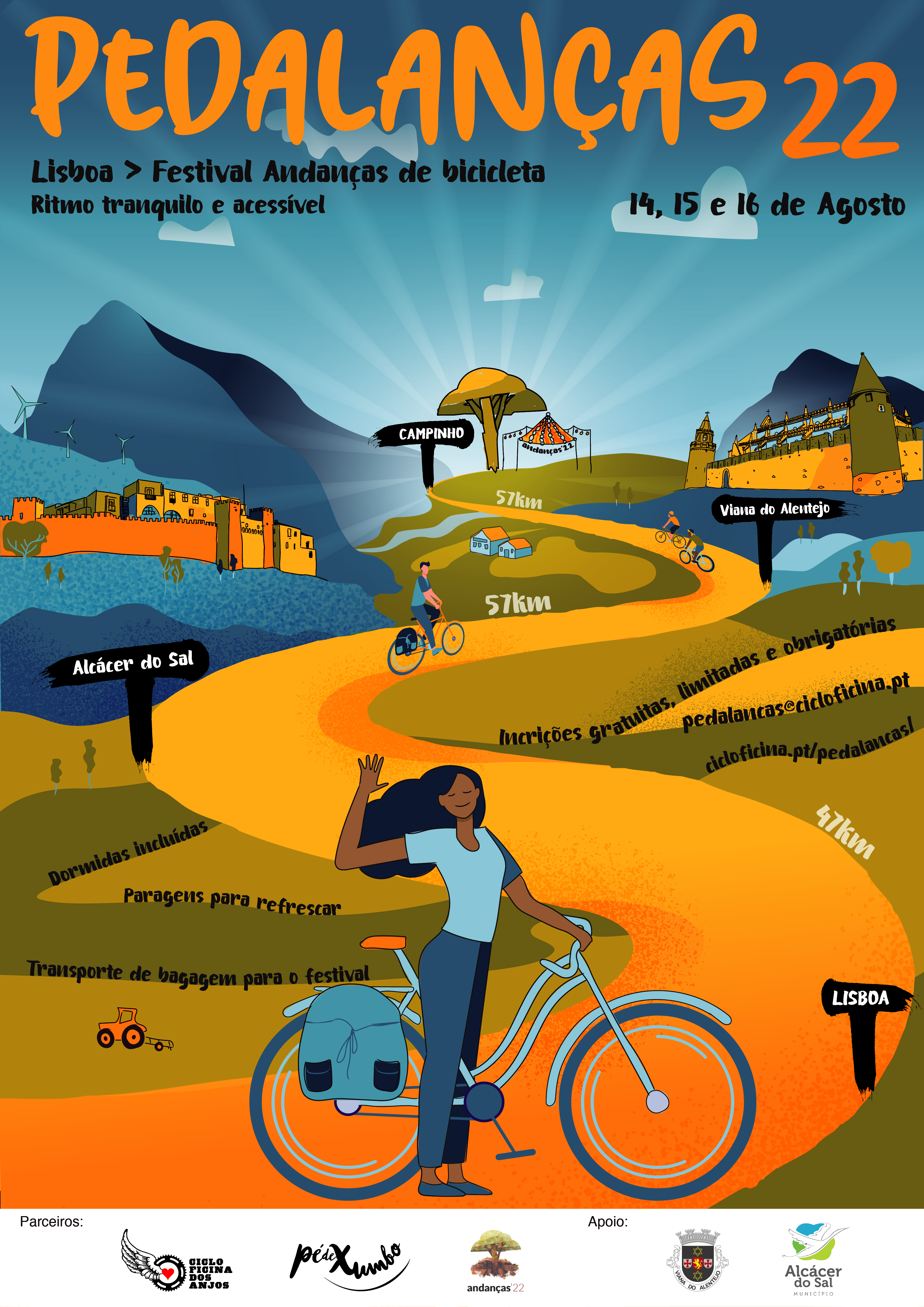 It's a journey within a journey!
Accommodation included:: Bathroom stops:: Calm and comfortable cycling pace
Only a limited number of overnight and dinners are available, with free but mandatory registration. Please fill out the form: Click here!
For more information send us an email to: pedalancas@cicloficina.pt.
Route
To cycle this year to Campinho, in Reguengos de Monsaraz, in Alentejo, we based ourselves on Ecovia 16 from the 2020 national cycle tourism network roadbook. With a route divided into 3 stages between Tróia and Alcácer do Sal (47 km), Alcácer do Sal – Viana do Alentejo (57 km) and Viana do Alentejo – Campinho (57 km).
To get to Tróia, we will take the ferry from Setúbal. The best option to get from Lisbon to Setúbal is the Fertagus train, which we recommend taking very early in the morning.
The overnight stays for these two nights will be in sports halls in the municipalities of Alcácer do Sal and Viana do Alentejo, which have toilets and showers at our disposal.
The volunteers from cicloficina dos anjos that are going on Pedalanças 2022, are organizing a group dinner in Alcácer do Sal on the first night, and in Viana do Alentejo on the second night, where participants can meet and refuel at the end of the day. These dinners are optional, so you will need to book them in advance, keep an eye on your email box.
Stage 1 – 14 August – Departure from Lisbon > Tróia
Lisboa > Setúbal: we will go by train to avoid the traffic of the cities of Lisbon and Setúbal. Participants should buy their own train ticket (4,60€).
Setúbal > Tróia: we will go by ferry. Participants should buy their own train ticket (5,30€).
Departure from Lisbon: meeting at 8h00 at the Santa Apolónia railway station.
Timetable train: Lisboa > Setúbal:
Roma – Areeiro station: train at 6h43 (am) and 7h43 (am).
[Arrive at least 15 minutes early to buy a ticket, select destination Setúbal (mandatory for zapping card users) and store your bikes on the train.]
Entrecampos station: train at 6h45 (am) and 7h45 (am).
[Arrive at least 15 minutes early to buy a ticket, select destination Setúbal (mandatory for zapping card users) and store your bikes on the train.]
Timetable Ferry: Setúbal > Tróia:
Atlantic Ferries Setúbal – Doca do Comércio – 9h30 (am) and 10h00 (am).
[Arrive at least 15 minutes early to purchase a ticket. There are two ferry stations, and bicycles are only allowed on ferries, along with cars. We made a map to help you get from the train station in Setúbal to the ferry station. You can consult or download the Naviki map.]
Stage 2 – 14 August – Tróia > Alcácer do Sal (47 km, 280 m)
Route: You can check the Naviki map or download it here and use it in your favorite application.
Description: The first day is the shortest one, it starts in Tróia, and we do a round of presentations and briefing before starting. The route passes through the Comporta village and continues through the Palafítico da Carrasqueira Pier. In the vicinity of the pier, there are some cafes, restaurants, and a grocery store. We will realize that Alentejo is the hottest region in the country and with the lowest population density, so we should always have more than one bottle of water with us and some food when we move between towns.
The Alcácer do Sal village is by the river and awaits us with a beautiful castle, and a municipal swimming pool with green areas. In the evening, those who wish can dine at Leonardo, whose menu and more information will be sent soon.
Accommodation: Municipal Pavilion Gym (has WC`S, and shower area).
Stage 3 – 14 August – Alcácer do Sal > Viana do Alentejo (56 km, 410 m)
Route: You can check the Naviki map or download it here and use it in your favorite application.
Description: The second day of Pedalanças has more kilometers and more elevation than the first day. We started to enter a less touristy Alentejo area with much less busy roads.
To avoid the midday hours heat, the best option is to start very early and go halfway to Alcáçovas, the rattle capital. There is a garden, cafes, and restaurants for those who want to stop before heading to Viana do Alentejo. In Viana do Alentejo, there will also be a group dinner for those who wish.
Accommodation: Viana do Alentejo Municipal Pavilion (has WC`S, and shower area).
Stage 4 – 15 August – Viana do Alentejo > Campinho (56 km, 430 m)
Route: You can check the Naviki map or download it here and use it in your favorite application.
Description: On the third and last day, we pass through a small village before arriving at Portel, where there are cafes and restaurants, and a market with a garden, where you can stop for lunch and stock up on regional foods. Leaving Portel, we head towards Amieira, which has a river beach in the Alqueva dam. Between Amieira and Campinho there is a final climb that will give us a wide view over the dam.
Arriving at Andanças in Campinho!
It is possible to join us during the trip. See the Frequently Asked Questions section below.
Or check the entire route here: Naviki map or download it here and use it in your favorite application.
Transportation of tents and baggage
If you have any baggage that you will only need at Andanças, you can leave it (as well as your tent that you won't need during the trip) at Cicloficina dos Anjos during the Monday and Wednesday sessions.
Cicloficina arranges for the one-way transportation of one bag/backpack and one tent per participant for a fee of €5,00.
FAQ – Frequently asked questions
Do I have to have my own bike?
Yes. We recommend you use the bike you usually ride so that you understand the level of comfort it provides as well as the mechanical state it is in. It is important that you check if your bike functions properly BEFORE the journey.
I usually don't ride a bicycle; can I still register for the journey?
You should definitely ride more! Anyway, even if you lack daily practice, it is important that you prepare and practice before the trip. It is not necessary to ride every day to be physically prepared for this trip, once a week for the past 3 months should be sufficient. You still have some time to catch up! ;)
Will I arrive totally beat after the trip, to the extent that I won't be able to dance at Andanças?
We believe that you won't. You can always go to the yoga classes that can help you to recover. It usually takes 2-3 days for the body to recover completely. Once this happens, you will dance until you cannot dance anymore! Until that point, you will embrace the difficulties.
Will I die because of the heat?
What an overstatement.
Will it be very hot and will I catch sunstroke?
We will pedal during the least hot hours and with the least possible exposure to the sun. It is important that you use sunscreen, and bring a cap (or helmet) that wouldn't fly away every time you start to pedal. Do you know the cycling caps? They are awesome!
And what about the bags? How will I carry my things?
Welcome to the one-million-dollar question. Firstly, we suggest that you avoid taking a backpack for the trip. If your bicycle has a luggage rack (the metal grid above the back or the front wheel) you should put your bag there so that you don't have to carry the weight on your shoulders for many hours.
Second suggestion: reduce the weight and size of your bag as much as possible. Don't take unnecessary things on a 3-day trip.
Other participants can also help you by sharing the weight on other bicycles or on a trailer, but remember that the more weight you bring the more difficult it will be for the whole group. Bring also 1 or 2 holders for bottles if your bicycle is suitable for that.
Adapt your baggage to the characteristics of your bicycle. If you have friends that also go to Andanças by other forms of transportation, get rid of the unnecessary weight like the tent, for example. Bring only the essential things, and if you decide not to have a luggage rack or saddlebags, make sure you bring a breezy, light, and comfortable backpack.
Is it possible to bring my 2, 3, or 5 seconds pop-up tent on the bicycle?
Those nylon discs that look like giant frisbees? Hardly. Ask a friend who goes to the festival to take it, just like your other things that are unnecessary for the bicycle trip. For these days you won't need a tent since we will be hosted in other locations on the road.
Should I bring a sleeping bag?
Yes. And a mattress, if you have one.
Should I bring food?
You can bring some snacks, like biscuits, fruits, dried fruits or nuts, but nothing that is very salty or can melt. Remember that the most important thing is to be always hydrated.
How much water should I bring?
Bring 1,5 liters of water with you. We will stop several times to fill your bottles up.
Should I bring tools?
If you have tools that you use during your travels, we recommend that you bring them. If you don't have any tools, nor do you understand the mechanics of a bicycle (like "what is this thing for?"), the volunteers from cicloficina dos anjos will provide you with tools and mechanics who can resolve minor problems, if necessary (for ex. holes, wheel bending, broken wire, adjustments, etc).
Should I bring lights?
We expect the whole travel to occur during the day. You might need lights if you feel like riding a bicycle at night during the festival.
Should I bring a helmet?
Road Rules don't require it and neither do we. You should use it if it makes you feel more comfortable or safe.
Should I bring a lock?
There will be an unguarded bicycle parking space by the enclosure of the festival area. We suggest that you take a good lock that allows you to dance without worries.
What kind of clothing should I take?
Your shoes should have a hard sole to avoid foot and leg pain. The weather is supposed to get hot, so you should bring light and cool clothing, a coat for the evenings, a waterproof or windproof jacket, and a cap for sun protection. Underwear should be light as well, for example, avoid pedaling in your swimsuit.
What else should I take?
It is important that you feel comfortable during the whole trip. A variety of light clothing, sunglasses, and sunscreen will definitely improve your traveling experience. It is also not a bad idea to bring mosquito repellent.
How can I know if my bicycle is ready to complete this journey?
We recommend that you get a general check-up for your bike if possible done by a professional mechanic at a bicycle store. Alternatively, you can show up at Cicloficina dos Anjos on a Monday or Wednesday, or in any other Cicloficina (www.cicloficina.pt), and you can check your own bicycle with the help of a volunteer.
Note: don't leave the preparation for the journey to the last moment, there are always unexpected things and time delays that are not easy to manage!
I can only join the group somewhere during the journey. Is it possible?
Yup.
There are Intercity trains departing from Lisbon to Alcáçovas station, where the group will pass on the second day of travel, (15th August). There are 3 trains a day, arriving at 11:27, 18:37, and 20:34. If you cycle 12 km, around 1 hour, you will arrive at Viana do Alentejo, the second day's final destination.
You can also see the Rede Expresses buses to any of the cities and towns on the way, whose requirements for transporting a bicycle are to remove the wheel and pack the bicycle with its own bag, or with plastic or reusable bags. For example, there are buses from Lisbon to Portel, arriving at 2:15 pm, which can be a good option to meet the group in the middle of the last day. From Portel, there is an accessible route of 16 km to Amieira (where there is a river beach), followed by the last 12 km of the journey to Andanças in Campinho.
For both modes of transport, you need to buy the ticket in advance, signaling the bicycle transport on the platform (no extra cost at CP; extra cost at Rede Expresso).
Send us an email if you need more information or support buying transport tickets.
What about the return trip to Lisbon?
Cicloficina will accompany participants throughout the journey to Pedalanças, but the return trip will be taken care of individually by the participants.
From Campinho to Reguengos de Monsaraz it is 11 km along quiet and comfortable roads. In Reguengos de Monsaraz you can take a Rede Expressos bus at 7:10 pm, removing the front wheel and packing the bike in plastic or reusable bags.
From Campinho to Évora there are 60 km (see GPX files here), the equivalent of the second day of pedaling. In Évora you can take the train back to Lisbon, without removing the bike's front wheel (don't forget to book a ticket, with a free bike).
I got so enthusiastic about the journey that I would like to know more about bicycle mechanics and get some ideas about how to pedal in the city!
Cicloficina will have a stand at Andanças where we will organize workshops on basic bicycle mechanics and will have tools and air pumps available, as also flyers and sheets of material about Cicloficina dos Anjos. We will also organize short biking trips during the festival. Come see us at the stand and we can talk there! :)
The registration and participation at Pedalanças 2018 imply that you understand and agree to the Rules of Operation and the Terms of Responsibility.
Logistic support:
| | |
| --- | --- |
| | |
| Câmara Municipal de Alcácer do Sal | Câmara Municipal de Viana do Alentejo |
Pedalanças is a partnership of:
| | |
| --- | --- |
| | |
| Cicloficina dos Anjos |  PédeXumbo |