Pedalanças
Bike riding to the Andanças Festival 2018
For the third year in a row, Cicloficina is joining Andanças in organizing a bicycle trip to the Festival. Our three-day trip of 180 km at the end of July is divided into three comfortable stages that allow participants to enjoy the trip and the landscapes we will be crossing without any rush or major effort.
The journey is environmentally sustainable and as close to nature as possible.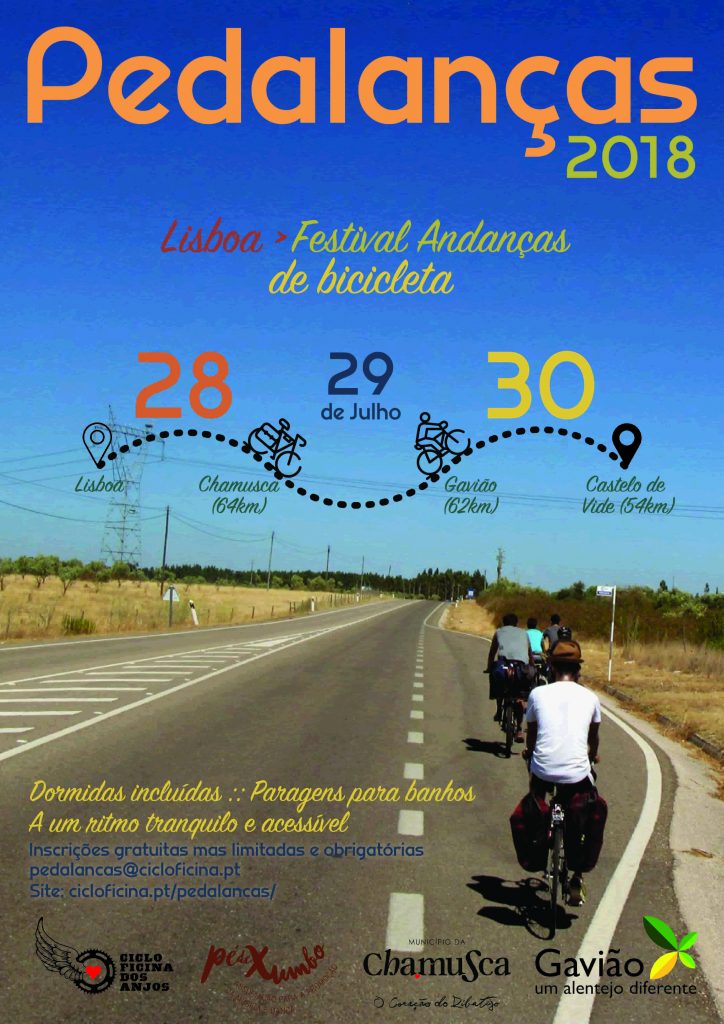 It's a journey within a journey!
Accommodation included :: Bathroom stops :: Calm and comfortable cycling pace
Only a limited number of places are available, with free but mandatory registration. Please send an email to pedalancas@cicloficina.pt with your name, age, your bicycle type and previous cycling experience.
Route
Stage 1 – 28 July – Lisbon > Chamusca
Lisbon > Azambuja: we will go by train to avoid the heavy outbound traffic of the city. Participants should buy their own train ticket (2,55€).
Departure from Lisbon: meeting at 8h00 at the Santa Apolónia railway station.
Azambuja > Chamusca (64 km)
Route: https://www.mapmyride.com/routes/view/1605290947
A very relaxed and flat ride along the Tejo river, enjoying the fluvial and agricultural landscape.
Accommodation in the barracks of the Firefighters of Chamusca, kindly offered by the Council of Chamusca.
Stage 2 – 29 July – Chamusca > Gavião
Chamusca > Gavião (62 km)
Route: https://www.mapmyride.com/routes/view/1605300094
A relaxed second day, with an ascent during the last kilometers. There is a possibility to take a bath in the riverside beaches during the day.
Accommodation in the barracks of the Firefighters of Gavião, kindly offered by the Council of Gavião.
Stage 3 – 30 July – Gavião > Castelo de Vide
Gavião > Andanças (54 km)
Route: https://www.mapmyride.com/routes/view/1605295786
Starting the day on the plateau and ascent to Castelo de Vide during the last kilometers.
Arriving at Andanças!
It is possible to join us during the trip. See the Frequently Asked Questions.
Or check the entire route here: http://www.mapmyride.com/routes/view/1613668141
And here: https://www.google.com/maps/d/embed?mid=1V006jWr9c8fIFyyiBEtXXynM8V4&hl=pt-PT
Transportation of tents and baggage
If you have any baggage that you will only need at Andanças, you can leave it (as well as your tent that you won't need during the trip) at the Cicloficina until 22h00 on Wednesday, July 25.
Cicloficina arranges for the one-way transportation of one bag/backpack and one tent per participant for a fee of €5,00.
We suggest that participants pay a 3€ donation to cover the organizational costs of Pedalanças 2018. The remaining amount will be transferred to the Cicloficina dos Anjos.
FAQ – Frequently asked questions
Do I have to have my own bike?
Yes. We recommend you use the bike you usually ride so that you understand the level of comfort it provides as well as the mechanical state it is in. It is important that you check if your bike functions properly BEFORE the journey.
I usually don't ride the bicycle; can I still register for the journey?
You should definitely ride more! Anyway, even if you lack daily practice, it is important that you prepare and train before the trip. It is not necessary to ride everyday to be physically prepared for this trip, once a week for the past 3 months should be sufficient. You still have some time to catch up! ;)
Will I arrive totally beat after the trip, to the extent that I won't be able to dance at Andanças?
We believe that you won't. You can always go to the yoga classes that can help you to recover. Normally it takes 2-3 days for the body to recover completely. Once this happens, you will dance until you cannot dance any more! Until that point you will embrace the difficulties.
Will I die because of the heat?
What an overstatement.
Will it be very hot and will I catch sunstroke?
We will pedal during the least hot hours and with the least possible exposure to the sun. It is important that you use sunscreen, and bring a cap (or helmet) that wouldn't fly away every time you start to pedal. Do you know the cycling caps? The are awesome!
And what about the bags? How will I carry my things?
Welcome to the one-million-dollar question. Firstly, we suggest that you avoid taking a backpack for the trip. If your bicycle has a luggage rack (the metal grid above the back or the front wheel) you should put your bag there so that you don't have to carry the weight on your shoulders for many hours.
Second suggestion: reduce the weight and size of your bag as much as possible. Don't take unnecessary things on a 3-day trip.
The organizers can also help you by dividing the weight on other bicycles or on a trailer, but remember that the more weight you bring the more difficult it will be for the whole group. Bring also 1 or 2 holders for bottles if your bicycle is suitable for that.
Adapt your baggage to the characteristics of your bicycle. If you have friends that also go to Andanças by other forms of transportation, get rid of the unnecessary weight like the tent, for example. Bring only the essential things, and if you decide not to have a luggage rack nor saddlebags, make sure you bring a breezy, light and comfortable backpack.
Is it possible to bring my 2, 3 or 5 seconds pop-up tent on the bicycle?
Those nylon discs that look like giant frisbees? Hardly. Ask a friend who goes to the festival to take it, just like your other things that are unnecessary for the bicycle trip. For these days you won't need a tent since we will be hosted in other locations on the road.
Should I bring a sleeping bag?
Yes. And a mattress, if you have one.
Should I bring food?
You can bring some snacks, like biscuits, fruits, dried fruits or nuts, but nothing that is very salty or can melt. Remember that the most important thing is to be always hydrated.
How much water should I bring?
Bring 1 liter of water with you. We will stop several times to fill your bottles up.
Should I bring tools?
If you have tools that you use during your travels, we recommend that you bring them. If you don't have any tools, nor do you understand the mechanics of a bicycle (like "what is this thing for?"), the organizers will provide you with tools and mechanics who can resolve minor problems, if necessary (for ex. holes, wheel bending, broken wire, adjustments, etc).
Should I bring lights?
We expect the whole travel to occur during the day. You might need lights if you feel like riding the bicycle at night during the festival.
Should I bring a helmet?
Road Rules don't require it and neither do we. You should use it if it makes you feel more comfortable or safe.
Should I bring a lock?
There will be an unguarded bicycle parking space by the enclosure of the festival area. We suggest that you take a good lock that allows you to dance without worries.
What kind of clothing should I take?
Your shoes should have a hard sole to avoid foot and leg pain. The weather is supposed to get hot, so you should bring light and cool clothing, a coat for the evenings, a waterproof or windproof jacket, and a cap for sun protection. Underwear should be light as well, for example avoid pedalling in your swimsuit.
What else should I take?
It is important that you feel comfortable during the whole trip. A variety of light clothing, sunglasses and sunscreen will definitely improve your travelling experience. It is also not a bad idea to bring mosquito-repellent.
How can I know if my bicycle is ready to complete this journey?
We recommend that you get a general check-up for your bike, if possible done by a professional mechanic at a bicycle store. Alternatively, you can show up at Cicloficina dos Anjos on a Monday or Wednesday, or in any other Cicloficina (www.cicloficina.pt), and you can check your own bicycle with the help of a volunteer.
Note: don't leave the preparation for the journey for the last moment, there are always unexpected things and time delays that are not easy to manage!
I can only join the group somewhere during the journey. Is it possible?
Yes. There are regional and interregional trains that stop at the places we will spend the nights.
28 July, evening > Chamusca: Take the Regional train from Lisbon to Golegã and pedal around 8 kilometres to Chamusca.
29 July, morning > Tramagal: Take the Regional train from Lisbon to Tramagal*, and pedal around 1 kilometre to the centre of Tramagal.
30 July, evening > Belver: Take the Regional train from Lisbon to Belver-Gavião*, cross the bridge and pedal around 5 kilometres to Gavião.
*change trains at Entroncamento station
What about the return trip to Lisbon?
Cicloficina will accompany participants throughout the journey to Pedalanças, but the return trip will be taken care of individually by the participants. Now that you already know that it doesn't take that much, we suggest that you take the same route back to Lisbon or to chose alternative routes (for example: http://www.mapmyride.com/routes/view/1106560226 ). You can also pedal to Vila Velha de Ródao, around 40 kilometers and take the train from there to Lisbon (map: https://www.mapmyride.com/routes/view/1613648734).
I got so enthusiastic about the journey that I would like to know more about bicycle mechanics and get some ideas about how to pedal in the city!
Cicloficina will have a stand at Andanças where we will organize workshops of basic bicycle mechanics, and will have tools and air pump available, and also flyers and sheets of material about Cicloficina dos Anjos. We will also organize short biking trips during the festival. Come see us at the stand and we can talk there! :)
The registration and participation at Pedalanças 2018 imply that you understand and agree the Rules of Operation and the Terms of Responsibility.
Logistic support:
| | |
| --- | --- |
|   | |
| Câmara Municipal da Chamusca | Câmara Municipal de Gavião |
Pedalanças is a partnership of:
| | |
| --- | --- |
| | |
| Cicloficina dos Anjos |  PédeXumbo |